While Miles is a very busy performer, he has managed to make a fine name for himself as a director as well. His directorial ventures range from regional companies to New York, from contemporary to classical theatre, from full scale musical to nightclub cabaret. He recently directed his first film and the New York workshops and development of the new musical Back Again.
He's served as Artistic Director for Musical Theatre Renegades in Chicago and The Hot Spot Theatre Company in Hot Springs, Arkansas. He was lauded for his work as author and director in his marriage of Classical Theatre and Cabaret in the smash hit revue of Shakespeare in song Words Words Words & Music and has been nominated for multiple projects as Outstanding Director by the Manhattan Association of Cabarets and Clubs. Most recently, Miles received Po'okela Awards from the Hawai'i State Theatre Council, for his direction of 1776 at Paliku Theatre and Shear Madness at Manoa Valley Theatre.
Miles received his graduate training with the American Conservatory Theatre in San Francisco and his Master of Fine Arts degree from the National Theatre Conservatory (ANTA).
Miles also serves as a private acting and audition coach. He coaches in groups, one on one, and remotely, via video chat. For information about his availability and services, please visit the contact page.
On The Boards
The two major productions Miles has directed since arriving in Hawaii have both been delightfully vibrant and, while dramatically different in subject matter and style, shared Miles' visual aesthetic and approach to storytelling. Fortunately, they were captured on film by two of Hawaii's finest photographers. Below are fairly comprehensive galleries that capture the colorful, kinetic productions of both Shear Madness and 1776.
Shear Madness
This season, Miles was invited by Manoa Valley Theatre to direct their revival production of Shear Madness, which had played to great success 20 years before. The wildly funny murder mystery farce set in a hair salon, has been in constant production since it opened in Boston 40 years ago and it is officially the longest running play in America. Hit productions have opened around the world, and they have been primarily directed by the original creators. Miles happily accepted the opportunity to take on the direction of such a beloved comedy. Each production of Shear Madness around the world is updated to reflect current events and local references. Miles spent months writing new jokes and populating the script with names and places that filled it with Hawaiian flavor. He enlisted the help of a wonderful production team, notably Set Designer DeAnne Kennedy, Costume Designer Carlynn Wolfe, Hair & Makeup Designer Lisa Ponce de Leon, Lighting Designer Janine Myers, and Graphic Designer David Cox, to create a delightful, tropical world that clearly reflected 2018 Waikiki while honoring the concepts of the original production. He also enlisted the talents of videographer Paul Goto and local television news celebrity Pamela Young, as well as cameo photo appearances from local celebrities like Hawaii Five-0's Jorge Garcia and Hawaii State Legislator Chris Lee, to give the production additional moments of surprise, crowd-pleasing local authenticity. The result was a smash hit! The original run sold out, playing to standing room only houses, and then enjoyed multiple sold out extensions. The cast featured six remarkable actors who displayed exceptional character skills and the ability to take anything the (very) enthusiastic audiences threw at them, and turn it into comedy gold. The entire cast (Dan Connell, Fabienne Flandre Herold, Sean Koegel, Alan Shepard, Shannon Winpenny, Stephen J. Wyman) was honored with the Hawai'i State Theatre Council Po'okela Award for outstanding achievement by an Ensemble in a Play. And Miles received his third Po'okela Award, this time for Director of a Play!
Production photos by Erich Steinwandt, with additional photos by Chuck Babbitt and Miles Phillips.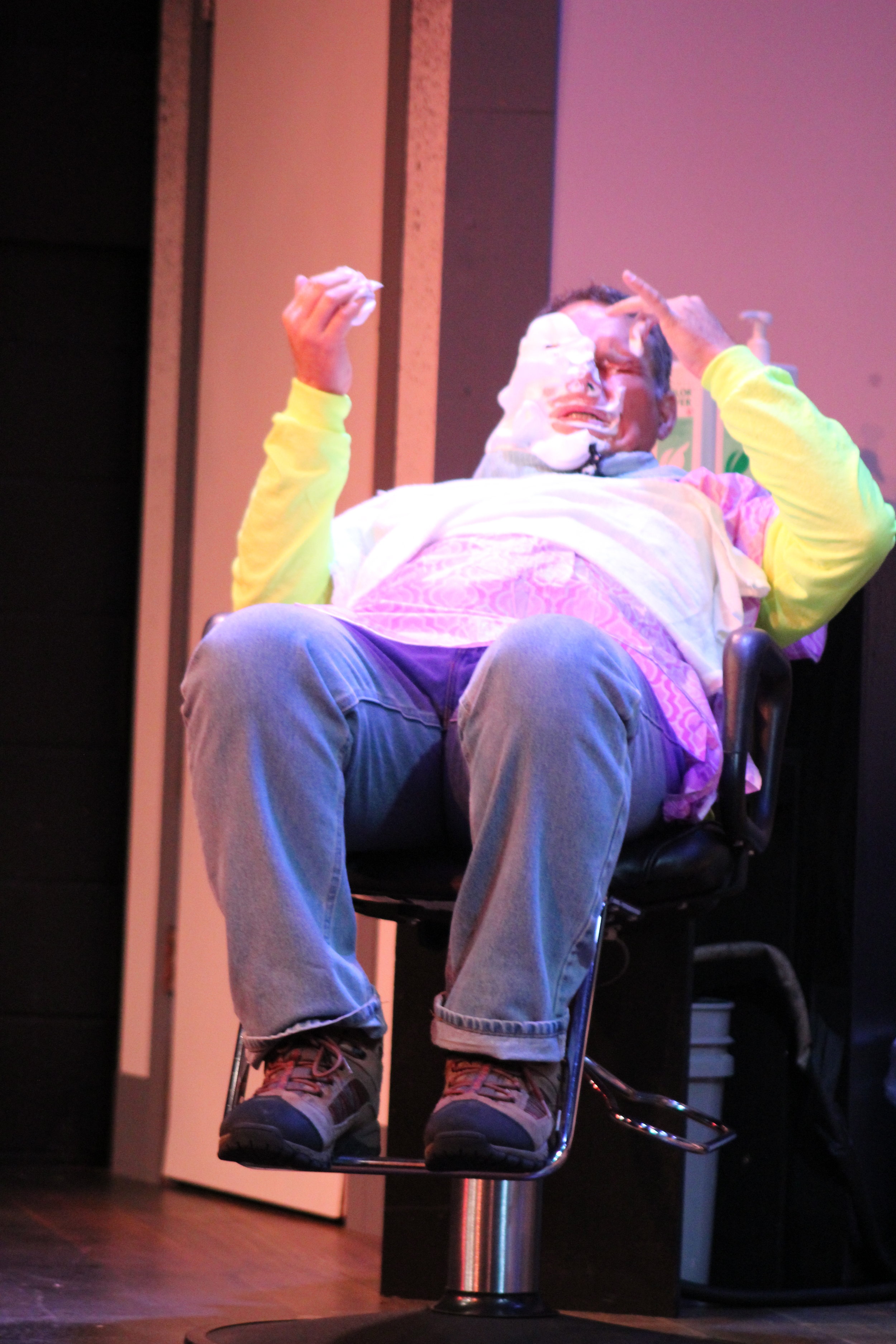 1776
Last season, Miles directed a glorious production of 1776 at Hawaii's Paliku Theatre. The cast featured some of the finest talent on the island, gathered from musical (and non musical) theatre, opera, dance, film, television and radio. Miles envisioned the action springing to vibrant, colorful life from a dust draped setting that was a cross between the actual Independence Hall, The Jefferson Memorial, and The Metropolitan Museum of Art. Miles wanted to provide glimpses into how the decisions made by the men in the history books touched the lives of the ordinary men and (notably) women outside the "room where it happens." The response from critics and audiences was unanimously enthusiastic. 1776 won seven Hawai'i State Theatre Council Po'okela Awards, including Outstanding Musical Production and Director of a Musical award for Miles!
Here's a fairly comprehensive collection of photos, taken primarily by the incredible Chuck Babbitt, with additional beautiful photos by Anna Foster, Mo Radke, and Miles Phillips.